Summer is approaching fast and festival season is upon us and there are plenty such events for you to choose from BUT is it worth it ? If you are still not sure about whether a day-long yoga celebration is for you, here are 5 reasons to at least give it a try. Scroll to the end for details of a local new festival coming to Basingstoke on 30th June, Yoga South will be there !
1) Relax and Re-new: A yoga festival is an active mini-retreat.
If a yoga class can be your mini-break from everyday routines of moving (or mostly not moving) and thinking (or mostly worrying), a yoga festival can be a mini-retreat and your go-to when you need quality-time for and with yourself.
Whether the event is happening in a far away place or right in your neighborhood, as soon as your feet touch the festival grounds, you are entering a completely different world. Everything here is set up to make you feel awesome! Far away from your daily routines and to-do-list(s), all you need is to exhale stress and enjoy the offerings of the program to relax and energize.
2) Practice with dedicated teachers
Large Yoga festivals usually invite renowned teachers from all over the world that have dedicated their lives to yoga. Some of them teach traditional yoga styles others have their own style and school of yoga and you may get to experience several of them in one day for the price of one class in some cases. Some of the sessions may include things you may not experience during your standard weekly session like chanting and philosophy discourse.
Smaller events are a great opportunity to get to know local teachers who may be just as passionate and knowledgable as the latest Insta sensation.  So no need to travel far or spend a lot you will have the opportunity to meet and practice with many different and expert yogis. It is extremely inspiring and motivating to listen to, and learn from, passionate teachers who live what they teach and teach what they live.
3) Be Inspired, Stay Inspired: Time to explore and discover new sides of YOU.
Most of us in everyday life stick to our one or two favourite teachers and beloved routines without hardly ever trying something new. Yoga festivals are a great opportunity to explore new territory.
Most yoga festivals offer a wide range of yoga styles and related topics. The die-hard Power Vinyasa Yogi might discover the bliss of Yin Yoga. The serious Ashtangi may fall in love with the playful AcroYoga. One might explore mindful and fun "sister" disciplines like aerial yoga, crystal healing, essential oils , complementary therapies. The others might find the time and peace to dig into meditation and breathing techniques.
As much as we need certain routines to save energy, the constant drive on auto-pilot, that many of us so easily get trapped into, can eventually make us feel chronically tired or even depressed. A day or a weekend in the vast and colourful yoga world is opening the door to step out of our comfort zone. Meeting new people and absorbing new ideas can inspire us to a new perspective on our practice and on our life.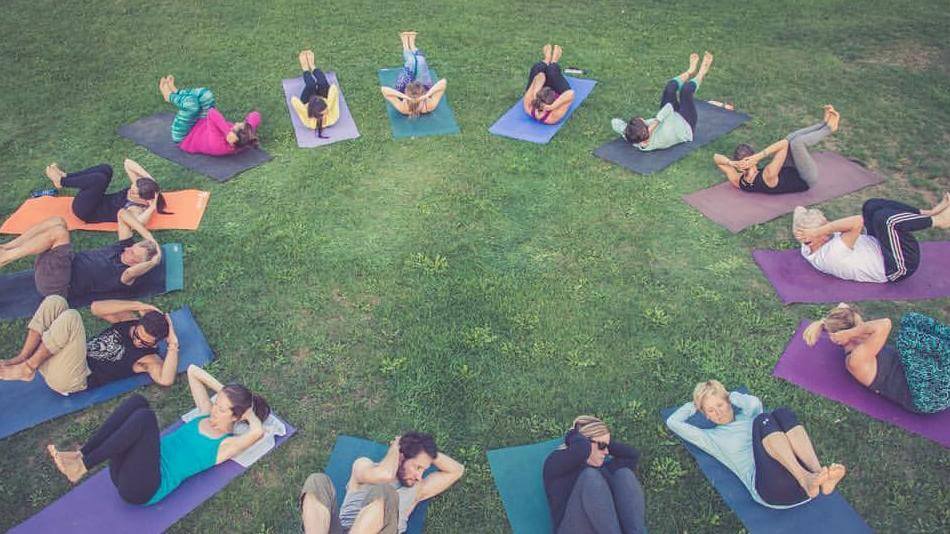 4) Unity in Diversity: Meet your tribe and celebrate togetherness.
Yoga attracts people of diverse cultural and social backgrounds. While the diversity of the community makes part of its beauty, separating concepts of our mind like age, nationality, gender, religious beliefs, or political backgrounds dissolve into a sphere of acknowledgment, yet insignificance, when you meet in yoga pants.
Breathing and moving together creates a sense of belonging with others around you and really brings the uniting practice of yoga to the forefront. Being present at a yoga festival allows us to celebrate that fact with other like-minded people, from all over the country or even the world, while celebrating the wonderfulness of the practice itself.
5) Wild and Free: Wholehearted living outside the comfort zone.
It is this open and safe space of acceptance that can open doors you might not have known even existed. Suddenly you catch yourself climbing on a stranger's body in acroyoga as if you were born to do so. You take the courage to try that handstand off the wall and fail in laughter.
You gaze into a fellow student's eyes in a partner meditation and don't feel shame for tears running down your cheeks. You sing and dance your heart out at the Kirtan concert and forget that, just a minute ago, "chanting" didn't seem to be your thing at all.
If all this seems a little overwhelming why not trying a local smaller festival , one of our teachers has organised a Yoga Gathering in Basingstoke in aid of a local cancer charity , it seems like the perfect opportunity and whilst most festivals charge rather a lot , this one is just 5£.  Basingstoke Yoga Gathering takes place on Sunday 30th June from 10.30 till about 3.30. 
For details and bookings check their facebook page or their dedicated website  
NAMASTE YOGIS !
CREDITS : inspired by this blog  https://www.doyouyoga.com/5-reasons-to-go-to-a-yoga-festival-this-summer-17074/